Stuff to buy!
---
Order my books!


---

April 2022: Rube Goldberg's Simply Normal Definitely Different Day Off
Written by Jennifer George
Illustrated by... me.
Abrams Kids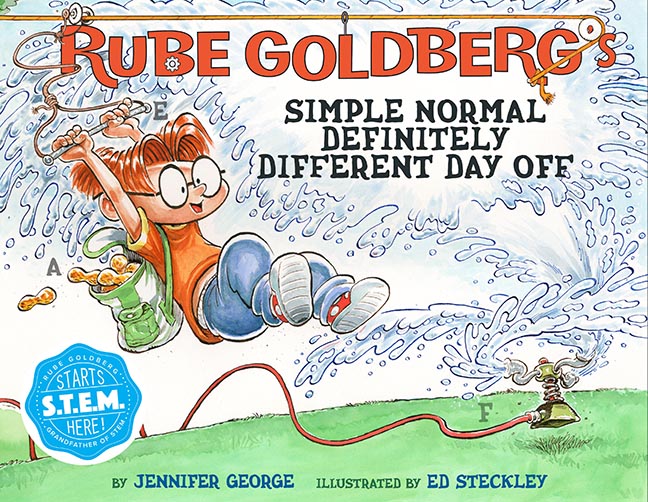 Follow along with young inventor Rube Goldberg on his day off from school in this wacky, STEAM-focused picture book
A "definitely different" follow-up to Rube Goldberg's Simple Normal Humdrum School Day, written by Jennifer George, the granddaughter of Rube Goldberg, and illustrated by award-winning artist Ed Steckley. They imagine Rube Goldberg as a young inventor who builds complex machines to solve simple, everyday problems. Follow along as he invents zany chain-reaction contraptions to have the best day off from school ever—including a simple way to play fetch in the yard without leaving your bedroom, a self-operating swing, and a super simple series of movie snacking machines.
Rube Goldberg and His Amazing Machines
Written by Brandon T. Snider, available now!
Art by.... me.
Abrams Kids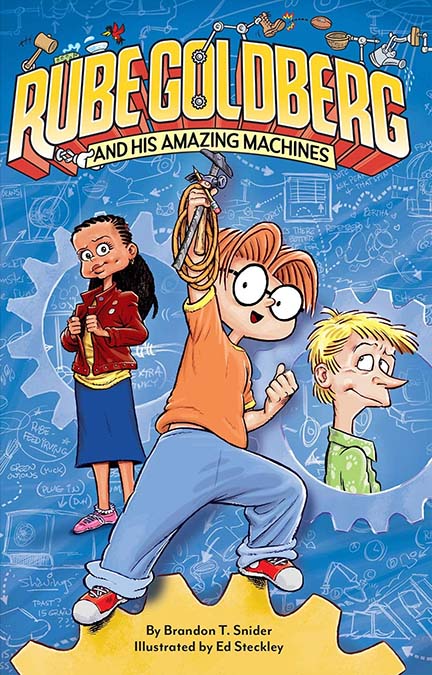 The hilarious first book in an all-new illustrated middle-grade series starring young inventor Rube Goldberg
On the first day of middle school, Principal Kim announces that the school is going to throw a Contraption Convention—the perfect opportunity for young inventor Rube Goldberg to show off his inventions and get out of his summer-long funk.
But after a fight with his friends Pearl and Boob about where his priorities really lie, Rube's Con Con entry gets off to a rocky start—and then strange incidents begin to throw the town into disarray. Boob is convinced it's a ghost causing all of this chaos. Between Con Con, the ghostly mystery, and a new rival, Rube has his work cut out for him. But with the help of his friends, he might just get things back on track, get on top of his burgeoning anxieties, and come up with something brilliant before it's time to face the judging table.
PRAISE
"Snider accurately conveys feelings of change and growth at a time when tweens are truly still children . . . Steckley's black-and-white illustrations evoke the cluttered, mad-scientist feel of Rube's workspace. . ."
-Kirkus Reviews
Available as is (boring), signed and inscribed by me with included author book plate (better), OR... get a personalized inscription, complete with a sketch and author book plate (the best!)

BACK IN STOCK: Rube Goldberg's Simple Normal Humdrum School Day!
Written by Jennifer George, and drawn by me, published by Abrams Kids.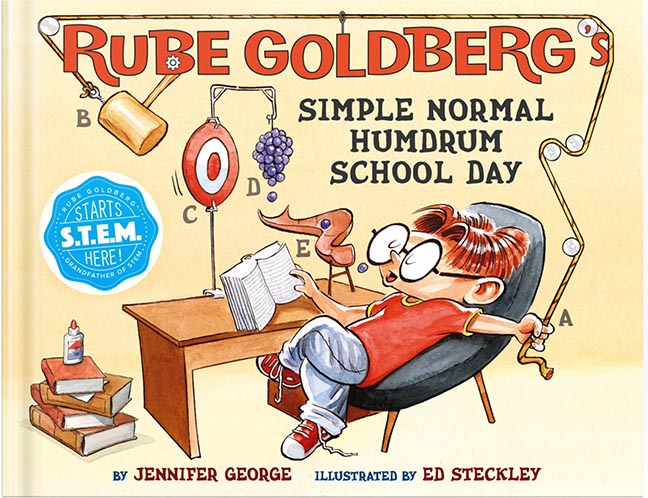 To help little Rube get through his day, he builds ridiculous machines to perform otherwise ordinary tasks.
From getting out of bed, getting dressed and making breakfast, to doing homework and going to bed, the entire day is depicted in the goofy world of Rube Goldberg.
Great for fans of STEM and STEAM, curious kids and thoughtful parents and teachers!

40 pages, including 15 2 page machine spreads. This book is the first in a series: book two will, um... *drop* in Spring 2021.

All books are signed and shipped to your door. For an extra fee I'll do little sketch and personalize the book to whomever you choose!



---
Original Art!

Original spread from Rube Goldberg's Simple Normal Humdrum School Day!
'A speedy way to get all your homework done at the same time'
Every machine and page in this book is hand inked painted on heavy Bristol board. This is your opportunity to own your own! This book is the first in series, so there's lots of Rube in the future, and the prices of these will no doubt be increasing in demand.

11.5" X 29" Ink and watercolor on heavy Bristol board, signed
Ships within 2 days.

$900