Just on the horizon- the follow up to my Rube Goldberg picture book!
Back before the pandemic started, December 2019 to be exact, I got going on a new Rube Goldberg picture with author Jennifer George.

Fast forward to June of 2020, a lot had changed in the world, but I was hunkered down, self quarantining for other reasons! Namely, to get this book done!
The original release date was set for Spring 2021. But, since picture books sell better at Point of Sale locations, Abrams made the (wise) decision to push it back to Spring 2022.

Well, Spring of 2022 is just around the corner, and I finally (yes, just now) got my advanced copy. That's always a thrill.
I'm really happy with this book- it's the sequel to my first, which was released in 2017. I can honestly say I'm a much better inker and painter (these books are all done traditionally, on paper.)

It's available for pre-order now. If you're a fan of Rube Goldberg, the machines and/or the cartoons, please consider it! If you get it and want it personalized, contact me at ed@edsteckley.com for my mailing address, and I'll happy sign and draw in your book as a thank you for ordering!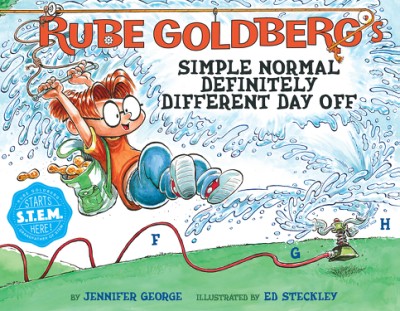 Click here to pre-order!
This is the third book I've illustrated in this series, with more on the way! Head to my Store for more goodies!
---